Rusty
Extra Special Bitter
Extra Special Bitter, a top fermented classic English beer which has been served in local pubs for centuries. It was only in the 19th century that the adjective "Bitter" was added to the name of beer. The purpose of this word was to distinguish this beer from the other favorite beer in the British Isles – much lighter – Mild Ale and at the same time to make it easier to order beer at the bar. Let's remember that we are talking about the times when there were no "medallions" or beer logo in pubs. The words Extra and Special historically meant stronger beers, after all, British beer culture is mostly based on light beers.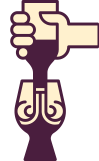 So, Rusty is pure English beer which, to replicate the classic hand pumped beer, is saturated with nitrogen not carbon dioxide. You can expect a compact foam with bubbles, a malt and caramel aroma with notes of classic English hops. Its taste is of great creamy texture and pleasant fullness with an elegant bitterness on the finish.
When in a pub, beware of this beer being too drinkable!
Cheers!
ABV: 5,7 %
Extract: 14 %
IBU: 25
Hops:
CTZ, East Kent Goldings, Endeavour
First batch: January 2021
Ingredients:
Water, barley malt, hops, yeast.
Download:
Label
Medallion
Bottle photo