Grodziskie – a special beer
It's very close to our hearts not only because we simply like it, but also because of its fascinating history. Most of all though, it is the only 100% Polish beer style. By all means you can easily call it a national brewing treasure.
Some put it in the same category as a Baltic porter but the difference with Porter is it that it simultaneously grew popular in other countries in the Baltic Sea region. Grodziskie however was brewed only in Poland. Its mini-homeland is Wielkopolska, with the main city Grodzisk Wielkopolski.
Oh, and it used to be treated as medicine! Let's start from the beginning though.
Charred wood and champagne
Let's be honest, this is one of the drinks you either hate or love. The trigger here is the strong aromas of smokiness that you probably want to prepare mentally for before tasting.
Smoking? Beer? How come?
Traditionally, when brewing Grodziskie beer, brewers used wheat malt which had been smoked with oak or beech tree smoke first. The aroma was so intense it would bury the delicate aromatic oils released by hops. Beer was light, pale, low in alcohol levels (2,5-3%), very clear and highly carbonated. It quenched thirst perfectly and after opening it would foam heavily, so when served in tall glasses, it could easily pass for champagne. Hence the nickname: champagne of the north.
Sounds enticing? Let's hear some more history then.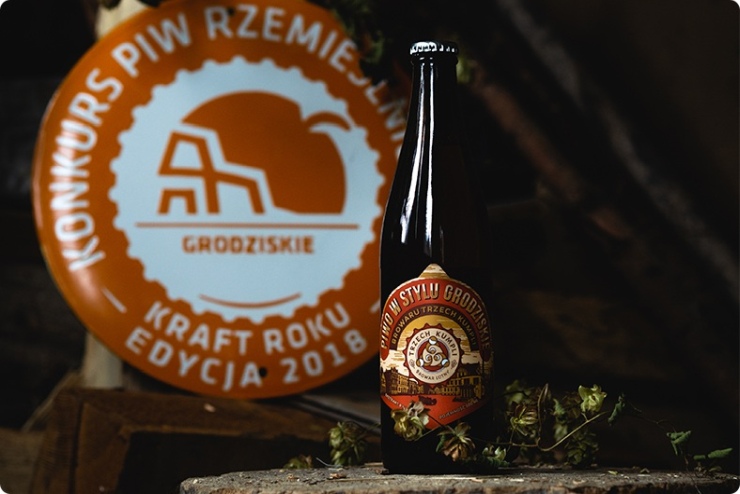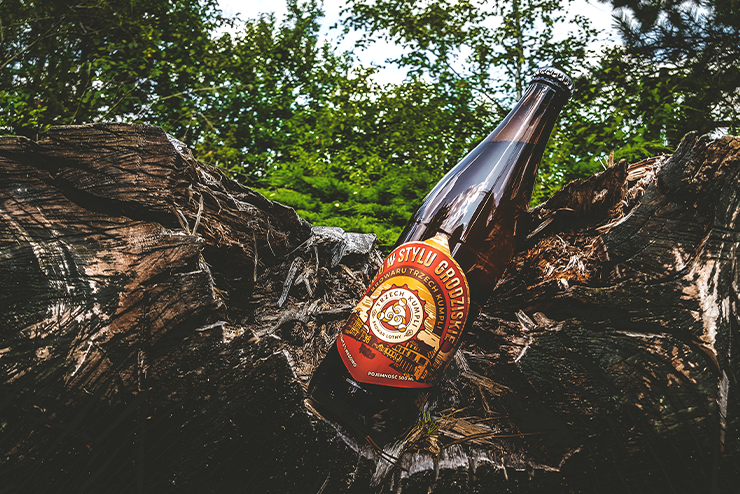 Brother Bernard, water well and stomach ache
There is a legend around how Grodziskie was made and the protagonist in the story is a monk named Bernard of Wabrzezno. It was thanks to his miraculous connection with God that a dried up well in Grodzisk filled with water again. The water from the well powered the brewery, which was the only source of income for the town, no wonder then that Bernard became a local hero. The well got named "St Bernard's pump" and to honour his memory, an annual procession was held from Grodziskie to Benedictine abbey in Lubin. There, on St Bernard's grave, a barrel of beer was sacrificed.
Grodziskie used to be brewed in Wielkopolska part of Poland long before Bernard's miraculous deeds, but it was around this time that the town of Grodzisk became the home of the beer's production.
Our favourite historic fact is the one about doctors who truly believed in Grodziskie's medicinal powers. From Middle Ages to WWII, it would be often prescribed for stomach pains as it was believed to have beneficial impact on the digestive system.
For 64 years Grodziskie was protected as a regional product in Poland (1929-1993) and as such, it could only be brewed in Grodzisk Wielkopolski.  After WWII, beer production was nationalized under Communist government of Poland. The production ended in 1993 when faced with new, brutal capitalistic rules it was forced out of the market by big beer conglomerates.
Grodziskie gets back in the game
Grodziskie would have probably joined a long line of historic, "extinct" beers, featuring only in discussions of beer enthusiasts if it wasn't for 2000s homebrewing move. It was the home beer-makers that revived this style! Grodzisk Wielkopolski, home of Grodziskie, has been holding a "Almost like Grodzisz" contest since 2006, and the awards go to home-brewers who stay truest to the original style, or, create the most interesting variation.
Also, the owners of Pinta, the biggest craft brewery in Poland, have been brewing Grodziskie since 2010. The actual brewery in the town of Grodzisk has been eventually bought by Browar Fortuna, and in May 2015 they released a "Piwo z Grodziska", available on Polish and foreign markets.
Since then, a lot of craft breweries have started brewing various interpretations of this lovely style, classic ones, as well as fruity, with smokey malts, citrusy hops from USA. Grodziskie is alive and kicking and its story continues, despite not being the easiest kind to brew, drink or sell (that smoky aroma again!).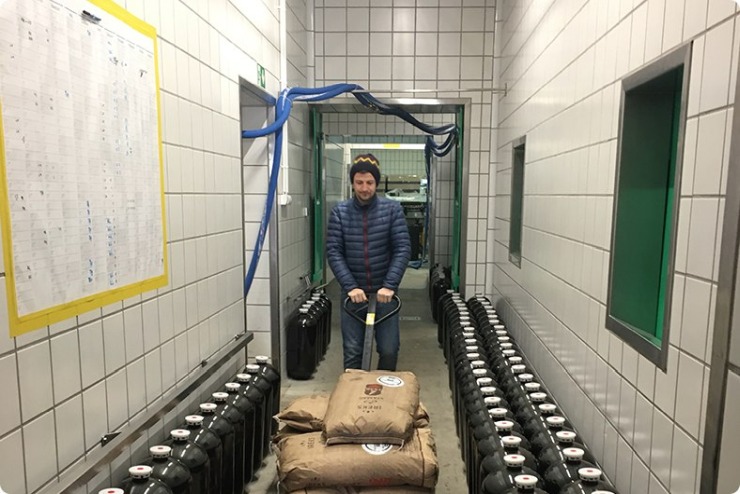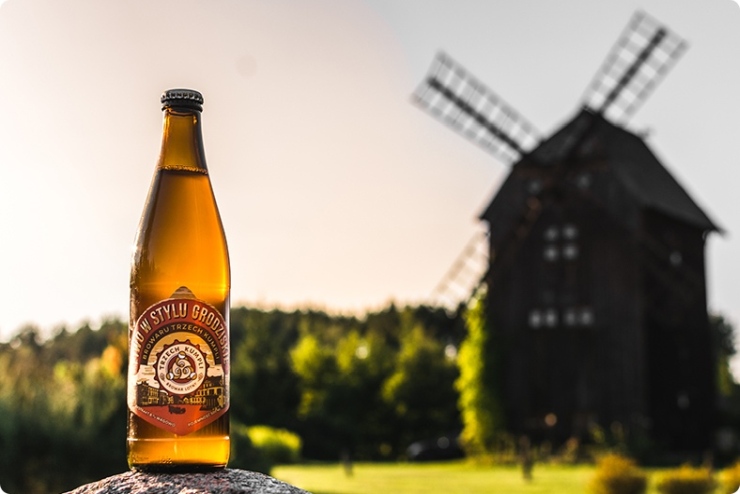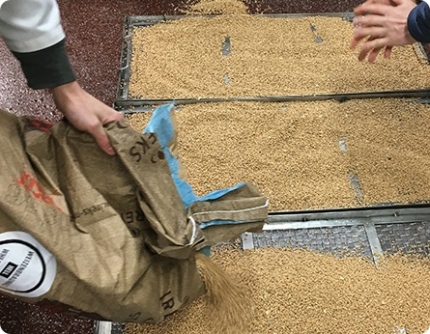 Trzech Kumpli on fire. Gold medal in Poznan.
2018 was a unique year for us for many reasons. For sure one of them was the fact we brewed our first batch of Grodziskie as for some time now we had wanted to contribute our share to the revival. We wanted to do it in a very classic way, using wheat malts and smoking with a smouldering oak tree, burned in a traditional hearth.
Zapanbrat Brewery, where are beers are created, has come up with a new smoking technology and it was during the third batch that we knew we hit the right spot. The perfect smoky flavour, noble, woody, not over-the-top. It will remind you more of a fireplace than a charcuterie board, its pungency perfectly blended with the lightness of the beer, fizzy carbon dioxide and slightly acidic finish.
In 2018 we sent it to the Craft Beer Competition organised yearly in Poznań. We won a gold medal! The best grodziskie AD 2018, according to judges from around the world, came from Trzech Kumpli. Ha!
Medals in subsequent competitions only confirmed his position.
What's next? Despite the selling challenges we will not give up on Grodziskie. We will be brewing it, even if it is one batch a year and even if we are to drink half of it ourselves – no biggie!
You on the other hand can do your bit in supporting Grodziskie. Apart from choosing it in the shop, share the story about the traditional Polish style with your friends and family, buy it as a gift, take it with you when drinking alfresco, fight your stomach-ache with it, be proud of it. It's our brewing heritage, alive since Middle Ages, before Columbus sailed to America – wow, right?!
More information for brewers.
For those keen to jump in at the deep end of the technological knowledge of Grodziskie brewing, here's a link to the website of Polish Homebrewers Association. In 2011 they started a project called Grodziskie Redivivus which aims at gathering all information on this beer in one place. It's a solid piece of work and their guidelines came in handy when we brewed our Grodziskie.
https://pspd.org.pl/style/grodziskie-redivivus/