Mild, a light beer with a dark brown color and low carbonation, can still be drunk in traditional British pubs. For centuries, it has pleased consumers with its great drinkability, although unfortunately its popularity has been declining year by year. In the nineteenth century, Mild was brewed in the British Isles with a very different content of the initial extract, the level of which was marked on the label with the appropriate number of letters "X".
In our Mild – Relic – caramel and nut flavors, as well as cereal coffee and delicate chocolate aromas play the first fiddle. The hop side is practically imperceptible in it, and to refer to its British counterparts even more, we decided to saturate the beer with nitrogen.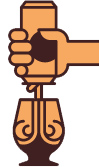 Do not pour delicately on the wall, but with an impetus, a strong stream, preferably in such a way as to aim at the bottom of the glass. Thanks to this, you stimulate the gas contained in the beer, which will build a wonderful, dense foam with tiny bubbles. The idea is that the beer in the glass should be very slightly saturated, which greatly increases its drinkability, and a kind of "filter" made of compact foam should add a sense of creaminess and fullness.
Welcome to the British Pub!
ABV: 3,3 %
Extract: 9,5 %
IBU: 18

Hops: East Kent Goldings, Fuggles 

First batch: April 2022 

Ingredients:
Water, barley malt, hops, yeast.
Download:
Label
Medallion/nakrannik
Bottle photo