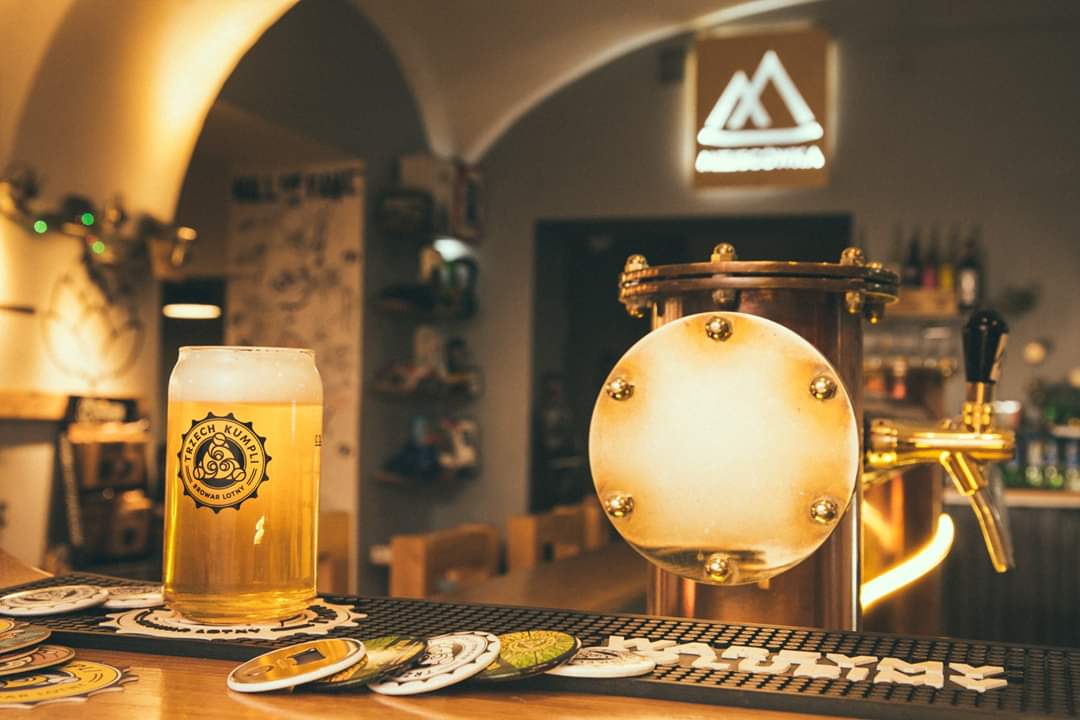 Miejscówka
This is our first partner pub. As per our deal, eight taps have our beers and the other four are offered to various other craft breweries. Trust us, the guys know how to select good quality beers and beside ours, you can definitely enjoy very decent drinks. The bottle offer is quite vast, too!
Miejscówka is located superbly: in Krakow's part Podgórze, just by the footbridge over the river Wisła. It's a great place for a morning walk, a quick lunch as well as an evening session with craft beer and friends. Food-wise, we recommend their delish sandwiches, which pair perfectly with our beers.
Every Thurdsay the owners host a "Finish the keg" night, which is a fantastic opportunity to try great beer at a fraction of the price. Make a booking, it's a very popular night!
Miejscówka prides itself in holding the Gault&Millau Poland recognition in the POP category (2019). Their fully deserve it, because they combine great food, beer and atmosphere in one small but perfectly designed place. We are very happy to be their partner.
Same Krafty
Legendary place on the map of Warsaw and Poland multitaps. First craft beer pub in our capital's historic city centre and one of our first and most faithful clients. Marcin who manages the whole business is a certified beer judge and an absolute legen; he knows everyone, everyone knows him. He always gives feedback, rarely praises, but if he does, we know the beer is perfect.
Five taps in Same Krafty are ours, but in reality it's often more than that. Marcin makes sure that the fridges are full of our bottles too, so if you are after a complete tasting of Trzech Kumpli beers, this is the place to go. Oh, and of course it goes without saying that other beers you'll taste there are at least of high quality.
Across the street you'll find another interesting concept, Same Krafty Vis a Vis. It's a twin pub run by the same capable people. At the same time it's a partnering pub of a popular brewery Piwne Podziemie. It's really cool to observe a steady flow of people form one place to another in a relaxed atmosphere.
You can order a really good pizza in Same Krafty and other tasty stuff too. It gets really busy on Fridays, but meeting craft fans and sharing time with them is what this should be all about, right?
It's fantastic to have such a partner!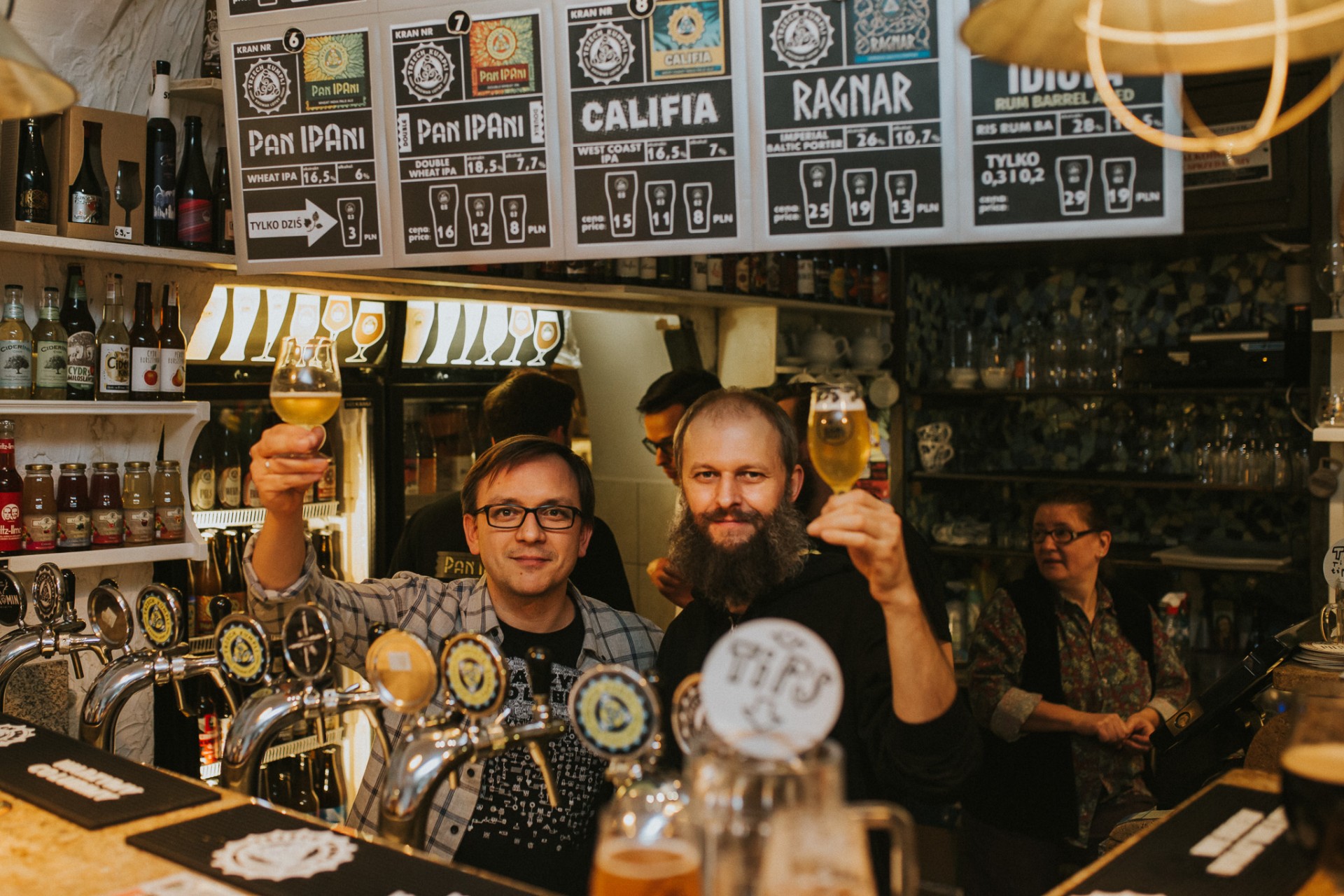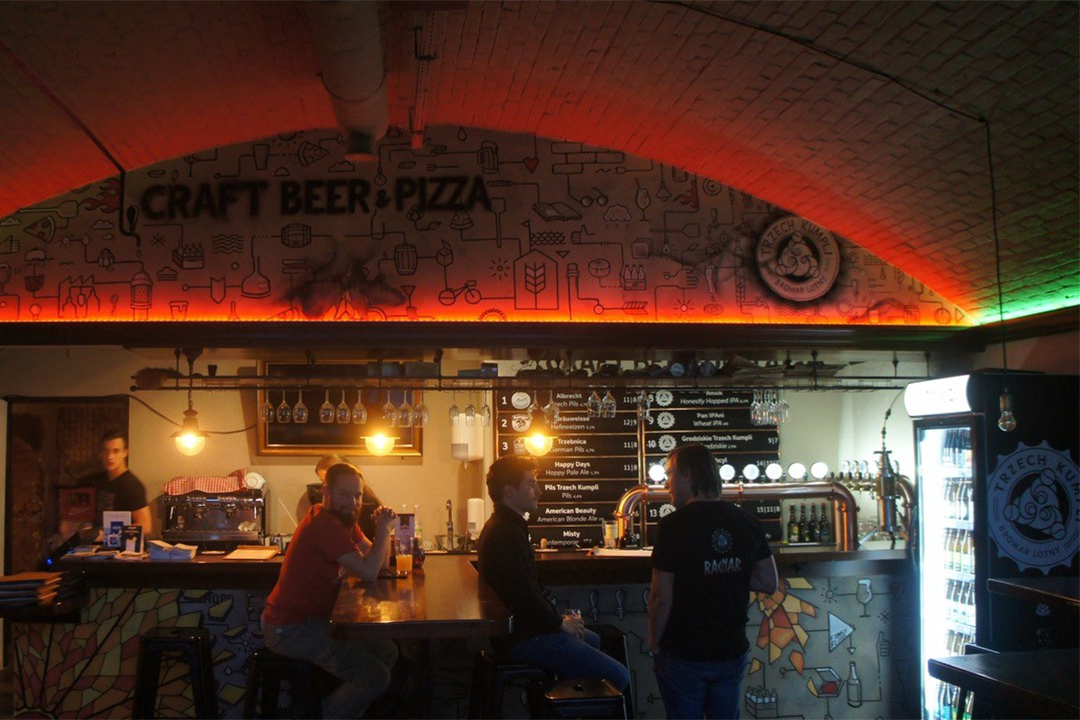 La Famiglia
Another craft spot under the patronage of Trzech Kumpli is La Famiglia in Wrocław. The restaurant, located under a historic railway embankment, offers the perfect mix: top-class craft beers and Italian food. It was out of love for Italian food that the place was created. The menu includes pasta, salads and a Roman pizza. Everything is prepared according to original recipes and using products imported from Italy. La Famiglia, however, captivated us not only with delicious, simple food that our beers blend in nicely with, but above all with a unique atmosphere. The restaurant is run by a fantastic, supportive family and you can feel this vibe. On top of it, they like craft beers a lot!
The deal is that we are on a minimum of 5 taps out of 13 available. Usually, however, Trzech Kumpli kegs take over 6-7 taps. The other ones always have beers from the Polish craft scene's leading breweries.
Every Thursday, like in "Miejscówka", there is barrel finishing in "La Famiglia" taking place, or "craft for 50%". We recommend following their activity in social media, because they come up with a lot of additional actions that they publish on a regular basis.