Citrus Nitro Baltic Porter
Baltic Porter
Another "Baltic" alongside the classic Porter by Trzech Kumpli in our portfolio. This time, however, a bit modernized …
We increased the feeling of fullness by adding rye malt, a mix of citrus peel and we saturated the whole with nitrogen, making the beer extremely velvety.
So don't expect from this beer only "a Baltic classic", that is: sweet notes of licorice, caramel, chocolate and molasses, but also citrus fruit, which in our opinion blend in wonderfully with dark beer.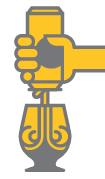 We saturated the beer with nitrogen and not carbon dioxide as usual. Do not pour it gently, but with impetus, a strong jet, preferably so as to aim at the bottom of the glass. In this way, you will stimulate the gas contained in the beer, which will form a wonderful dense foam with tiny bubbles. Our aim is to get a slightly saturated beer in the glass, which greatly increases its drinkability. What is more, a kind of "filter" made of compact foam should add a sense of creaminess and fullness.
ABV: 8,3 %
Extract: 22 %
IBU: 40

Hops: Iunga
First batch: December 2021
Ingredients:
Water, barley malt, rye malt, orange, lemon and lime peels, hops, yeaste.
Download:
Label
Medallion
Bottle photo