This is what we got when we wanted to brew a dark beer that won't be too bitter nor too sweet, not too dry and not too full, either. Roasty enough, with just the right amount of body, with plenty of flavours we love: coffee, chocolate, nuts, dried fruit. A rich mouthfeel of perfectly balanced bitterness against malty sweetness. Add the wonderfully creamy texture coming from the oat flakes and there's a recipe for a seamlessly balanced dark beer.
The first batches of Oaty were saturated traditionally – with carbon dioxide – but to add some more silkiness to it, we have been gradually moving towards nitrogen. Currently, Oaty is saturated using nitrogen only, and we decided to post a short video showing how to properly pour this stout.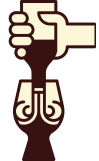 Do not pour it slowly, instead, do it vigorously, letting out a strong, steady stream, aiming at the bottom of the glass. By doing this, you will raise the gas contained in the drink, which in turn will create a wonderful, delicate foam.
It will add to the sense of creaminess and fullness.
Music: www.bensound.com
ABV: 5,5 %
Extract: 15.5 %
IBU: 25
Hops: Columbus
First batch: August 2019
Ingredients:
Water, barley malt, oat flakes, roasted barley, hops, yeast.
Download:
Label
Medallion
Bottle photo
Can photo