2019 – Summary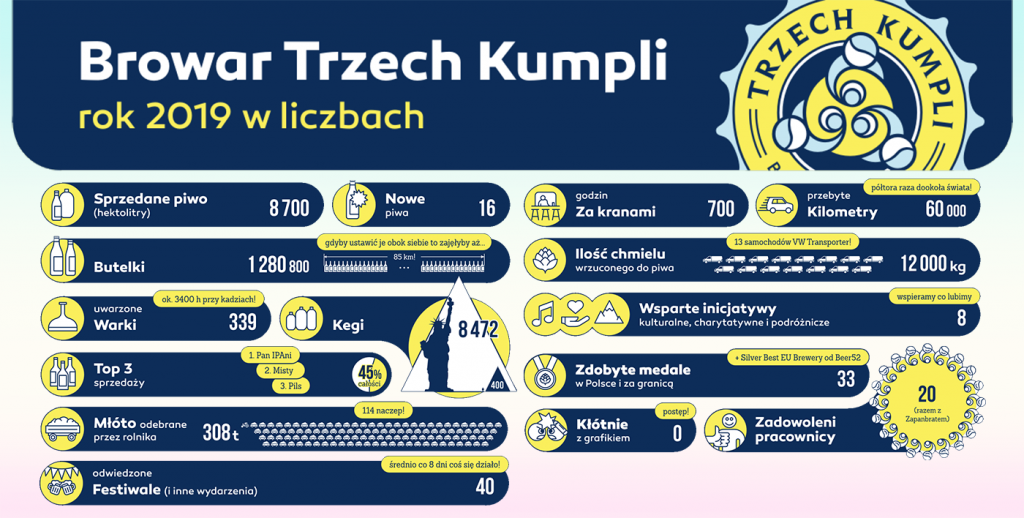 We are sorry the image is in Polish – below you will find the description.
This was yet another good year for us. We will remember is as a very busy but a rewarding one. We closed it with a feeling of a brewing job well done.
We sold 8700 hectoliters of beer. That's over 1.2 million bottle and almost 8500 kegs. To visualize it better, imagine 85 kilometers of bottles, or a pyramid of kegs much higher than Statue of Liberty..!
Our tops three best-sellers remain the same: Pan IPAni, Misty and Pils. The sales of those three beers make up 45% of our total sales, compared to 55% last year. That makes us happy as it means you are buying all of our beers! We are also pleased that Pils kept its place among the top three: you still love the good old classic.
We brewed 16 new beers, both new-age (like Tohunga) and birthday editions of our favourite IPAs: Native American, Califia and Pan IPAni. We also debuted our Belgian trilogy and a classic oatmeal stout Oaty. On top of that, we brewed a double collaboration with the PINTA Brewery. No time to get bored!
Last year we promised ourselves to cut down on the events we take part in as we could really feel the exhaustion. How did we on that promise? We failed, and badly! 2019 saw us taking part in almost 40 events, which is a similar number to last year. Thankfully, with a bigger team, we managed that a bit easier. We covered almost 60 000 kilometers and we spent over 700 hours behind taps – that's almost a month of continuous beer-pouring!
We received 33 medals at competitions in Poland and abroad: Frankfurt and Lyon. London awarded us with a silver trophy in Best EU Brewery from the craft beer club Beer52 (read more about the awards HERE).
We were partners during events we like and wand to support: Jazz Juniors Festival, Jazz Autumn, Tarnow Film Award, Off Camera. Ragnar was invited to celebrate the premiere of the 6th season of the History channel series Vikings. We cooperated with Biuro Wystaw Artystycznych (art gallery) in Tarnów. We also played with the Great Orchestra of Christmas Charity. In one word, we supported what we like!
We hosted our 5th anniversary in Krakow, in Weźże Krafta pub. This was our first time as street-art/craft event organiser, and we loved it!
Our joined staff (Trzech Kumpli and Browar Zapanbrat) is now up to 20 people compared to 15 in 2018. It's even more fun, diverse and friendly. Everything shared on this page wouldn't be possible without everyone's incredible engagement. It's a classic example of teamwork's effort!
Naturally, this year wouldn't have been this amazing without the single most important puzzle element: YOU! It's you who drink our beers and 'vote for us' with your wallets, but also on the rating apps and social media. Thank you – and please don't stop! 😉
We are very pleased with this year, still, we firmly believe that Polish craft's best years are still ahead of us.
Cheers!